It would be impossible to reflect on the history of Balmoral without referring to the name of the late and great Fred Daly. Fred was attached to Balmoral for the last 45 or so years of his life and must go down as being a star if not a superstar of British and Irish golf in his day. Fred was known and loved the world over for his ready wit and charm and for holding the distinction of being the first Irishman to win the Open in 1947 at the age of 36. Fred achieved much in his career despite the fact that the bulk of his prime coincided with the Second World War. His Open win aside, many would be proud to have his record over the next four years; second as the defending champion to Henry Cotton in 1948, tied for second in 1950, fourth in 1951 and third in 1952.
Fred being sent off at the Liverpool boat by friends and well-wishers including Max Faulkner, who followed Fred in winning 'The Open' in 1951 at Royal Portrush, the very course where Fred learnt his golf.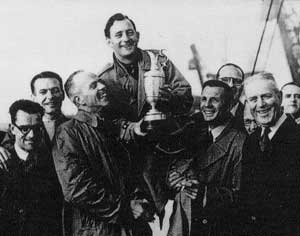 As three times British Matchplay Champion and only the second man this century to do the double of the Open and the Matchplay, Fred's record speaks for itself. One particular day is worth recounting in the 1953 British Matchplay Championship. Fred was drawn in the second round against Alan 'Tiger' Poulton. After 18 holes they were still locked together and they set out to play sudden death tie holes. Finally, after a gruelling five hours and ten minutes, Fred won the 12th tie hole. Not content with setting one record that day for the longest match, Fred then played a young up and coming professional called Peter Alliss in the third round after only a ten minute break. Fred proceeded to produce scintillating golf resulting in one of the more forgettable matches in Alliss's career. Touring the front nine in 31 shots, Fred despatched Alliss by the crushing margin of 6 & 5 in one hour and fifty minutes.
'In the annals of golfing the name of Fred Daly is among the greatest. This ex-shilling-a-round caddie from Portrush, who never had a golf lesson in his life, won the Open Championship at Hoylake, against the best in the world. Until 2007, when Padraig Harrington won The Open, followed in 2011 by Darren Clarke, he was the only Irishman with his name engraved on the famous claret jug beside those players such as Jack Nicklaus, Arnold Palmer and Gary Player.' – Eoin McQuillan
'One of the finest long iron players in the game, he could knock your hat off with a one iron at 220 yards.' – Sam Snead
Fred's Record
Irish International (1936, 1937, 1938)
8 times Ulster Professional Champion
3 times Irish Professional Champion
Irish Open Champion (1946)
Representing Ireland in 'World Cup' (1954, 1955, 1956)
3 P.G.A. Matchplay Titles
Ryder Cup Record
1947, 1949, 1951, 1953 – Won 3, Lost 4, Halved 1